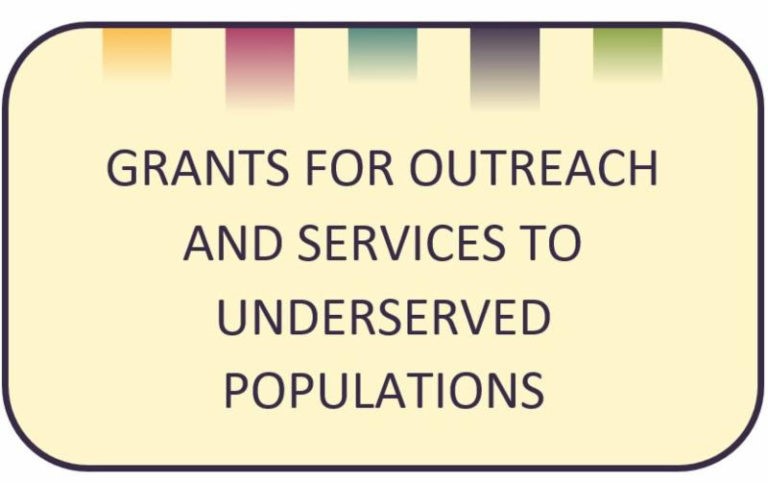 Underserved TA-Developed Products
Title: Nonprofit Capacity Building: Management Practices that Nurture Sustainability
By: ALSO Consultant Sharmili Majmudar, MSW
In an environmental context, "sustainability" generally means finding a way to use resources in a manner that prevents their depletion. Applying the environmental definition to the nonprofit context applies a more holistic, trauma-informed lens to sustainability. If we consider nonprofit sustainability in this manner, we have to consider how we define our resources, and what it means to prevent their depletion as critical to perpetuating our ability to fulfill our missions. Conceptualizing sustainability as holistic means that our inventory of resources include not only funding, but also talent, time, reputation, community, culture, traditions, relationships, and infrastructure.
---
Title: Using an Intersectional Lens for Promoting Access and Inclusion  
By: ALSO Consultant Shirley Paceley, MS
In working with "underserved populations," people may belong to more than one historically oppressed or marginalized group, and experience multiple social inequities. Every group has members with disabilities. This resource developed for grantees funded by the Office on Violence Against Women (OVW) Grants for Outreach and Services to Underserved Populations Program  is intended to promote intersectional thinking and provide insight as to practices and approaches by which people with multiple social identities living with a disability can be included equally in services aimed at supporting survivors of sexual assault and domestic violence.
---
2021 Underserved Virtual Grantee Orientation
Find the materials for the 2021 Grantee Orientation Here

2020 Underserved Virtual Grantee Orientation

Find the materials for the 2020 Grantee Orientation Here

---
ALSO Underserved TA
Project Webinars
2023 Underserved Summer Series 
2022 Underserved Summer Series
2020 Underserved Summer Series
Contingency Planning for Nonprofits During a Pandemic: TA Clinic
September 16, 2020
Facilitator: Lori Crowder, Executive Director | ALSO
This session was not recorded
Contingency Planning for Nonprofits During a Pandemic
Pre-recorded session released on September 1, 2020
Presenters: Lori Crowder, Executive Director | ALSO
Tara Campbell, Resilience Program Manager | ALSO
Zarena Leblanc, Program Coordinator | ALSO
Topher Williamson, Program Assistant | ALSO
English Recording


Spanish Recording


English Contingency Planning for Nonprofits During Pandemics Slidedeck
Spanish Contingency Planning for Nonprofits During Pandemics Slidedeck
English Contingency Planning for Nonprofits During Pandemics Worksheet
Spanish Contingency Planning for Nonprofits During Pandemics Worksheet
Sustainability in a Virtual World: TA Clinic
August 20, 2020
Sharmili Majmudar, Consultant | ALSO
This session was not recorded
Sustainability in a Virtual World
August 11, 2020
Presenters: Sharmili Majmudar, Consultant | ALSO
English Sustainability in a Virtual World Recording
Spanish Sustainability in a Virtual World Recording
English Sustainability in a Virtual World Slidedeck
Spanish Sustainability in a Virtual World Slidedeck
English Sustainability in a Virtual World Work Practices Worksheet
Spanish Sustainability in a Virtual World Work Practices Worksheet
English Sustainability in a Virtual World Single Commitment Worksheet
Spanish Sustainability in a Virtual World Single Commitment Worksheet
Self-care and Wellness
July 28, 2020
Presenters: Lisa Gilmore, Consultant | ALSO
Quenette Walton, Consultant | ALSO 
English Self-care and Wellness Recording
English Self-care and Wellness Slidedeck


Spanish Self-care and Wellness Slidedeck


English Self-Care Assessment Worksheet
Spanish Self-Care Assessment Worksheet
We apologize that the Spanish recording for this session had technical issues and is unable to be shared.
Pandemic(s) and the Underserved Community
July 15, 2020
Presenters: Lisa Gilmore, Consultant | ALSO
Quenette Walton, Consultant | ALSO 
English Pandemic(s) and the Underserved Community Recording
Spanish Pandemic(s) and the Underserved Community Recording
English Pandemic(s) and the Underserved Community Slidedeck
Spanish Pandemic(s) and the Underserved Community Slidedeck

Topical Webinars
Grant Management With OVW




Prácticas sobre la Diversidad, Equidad e Inclusión para Organizaciones Sostenibles: Creando Culturas de Cuidado - próximamente ( Coming soon) 

June 8, 2022
Presenters: Kara Moller, Suheyla Lasky, and Erin Lorah

DEI Practices for Sustainable  Organizations: Creating Cultures Of Care

Prácticas sobre la Diversidad, Equidad e Inclusión para Organizaciones Sostenibles:Creando Culturas de Cuidado
May 18, 2022
Jenna Musselman-Palles, LCSW

Serving Survivors from Immigrant and Refugee Communities | English Recording

 

                                                                                                                                      Sirviendo a sobrevivientes de comunidades de inmigrantes y refuiados | En espa

ñol

   
April 14, 2022   
Dr. Ifrah Magan                                                                                                                                              
Intersectionality Series: Substance Use and Survival: Thoughts from an Intersectional Framework | English Recording
Uso de sustancias y supervivencia: Pensamientos desde un marco interseccional | Spanish Recording


June 9, 2021




Presenters: Erin Tinnon, MSW, LCSW 

Intersectionality Series: Working With Older Adult Survivors | English Recording
La interseccionalidad en el trabajo con adultos sobrevivientes de edad avanzada | Spanish Recording


June 2, 2021




Presenters: Jacqueline Boyd, Owner | The Care Plan

Intersectionality Series: Intersectionality as Activism and Self-Care When Working with Underserved Survivors | English Recording
La interseccionalidad como activismo y autocuidado cuando se trabaja con sobrevivientes desatendidos | Spanish Recording


May 26, 2021




Presenters: Dr. Bunmi Oyewuwo, PhD, LMSW, Consultant | ALSO




Dr. Quenette L. Walton, PhD, LCSW, Consultant | ALSO



Put Down the Surveys: Centering Relationship Building in Learning and Evaluation
June 10, 2020
Presenter: Maya Pilgrim, Evaluation Manager | Texas Association Against Sexual Assault
Fundamentals and Framework: Understanding Confidentiality and Our Obligations
May 14, 2020
Presenters: Audace Garnett, Technology Safety Specialist | NNEDV


Corbin Streett, Technology Safety Specialist | NNEDV

Human Trafficking: Issues and Responses When Working With Underserved Populations
March 13, 2020
Presenters: Robin Hassler Thompson, JD, MA; Executive Director | Survive and Thrive Advocacy Center


Graciela Marquina, MSW, Victim Assistance Coordinator | Survive and Thrive Advocacy Center

Trauma-Informed Design: Creative Responsive Environments
May 29, 2019
Facilitator: Lisa Gilmore, Consultant | ALSO


Presenters: Jennifer Sobecki, CEO | Designs For Dignity




Neha Gill, Executive Director | Apna Ghar, Inc. (Our Home)

Intake Best Practices - A Follow Up to the 2018 Fall Institute
February 13, 2019
Presenter: Lisa Gilmore, Consultant | ALSO
Sexual Assault & Holistic Healing Practices For Culturally Specific/Underserved Populations
November 7, 2018
Presenter: Kalimah Johnson, Founder/Executive Director | SASHA Center
Facilitated Discussion on Providing Sexual Assault Services to Underserved Populations
March 29, 2018
Facilitator: Lisa Gilmore, Consultant | ALSO
Providing Sexual Assault Services to Underserved Populations
February 22, 2018
Presenters: Mira Yusef, Executive Director | Monsoon United  Asian Women of Iowa


Yasmeen Hamza, Director of Community Programs | Womankind

Grant Administration FY 2017
November 9, 2017
Presenter: Kara Moller, Program Manager | Office on Violence Against Women, US Department of Justice

A Message from OVW Acting Director Regarding COVID-19 
Read the letter here. (Sent March 17, 2020)
Underserved In-Person Meetings Session Materials 
All of the session materials are password-protected, for exclusive Underserved grantee usage. The password is: also!U
Institutes
2019 Summer Institute (Atlanta, Georgia)
2018 Fall Institute (Chicago, Illinois)

Grantee Orientations
FY 2019 Grantee Orientation (New Orleans, Louisiana)
FY 2018 Grantee Orientation (Washington, DC)
FY 2017 Grantee Orientation (New Orleans, Louisiana)
FY 2016 Grantee Orientation (St. Paul/Minneapolis, Minnesota)

---
Underserved Monthly Resource Email Archive
2022
December 2022
November 2022
October 2022
September 2022
August 2022
July 2022
June 2022
May 2022
April 2022
March 2022
February 2022
January 2022
2021
December 2021
November 2021
October 2021
September 2021
August 2021
July 2021
June 2021
May 2021
April 2021
March 2021
February 2021
January 2021
2020
December 2020  
November 2020
October 2020
September 2020
August 2020
July 2020
June 2020
May 2020
April 2020
March 2020
February 2020
January 2020
2019
December 2019
November 2019
October 2019 
September 2019
August 2019
July 2019
June 2019
May 2019
April 2019
March 2019
February 2019
January 2019
2018
December 2018
November 2018
October 2018
September 2018
August 2018
July 2018
June 2018
May 2018
April 2018
March 2018
February 2018
January 2018