Your Life is My Life / Tu Vida es Mi Vida is a bystander prevention and intervention program that addresses interpersonal violence in urban areas - including street violence, intimate partner violence, school violence, and the ways that these intersect and compound one another. An adaptation of the evidence-based model Green Dot, YLML encourages individuals to actively engage in safely preventing and ending violence.
Recognizing the connection between violence inside and outside the home, ALSO takes a cross-disciplinary approach, placing unique emphasis on the intersection of community violence and the many forms of interpersonal violence. We believe that the elimination of violence is a collective responsibility — no one is free from the threat or act of violence until we are all free from the threat or act of violence.  
The core of YLML is a Bystander Intervention Training Program. The program offers practical prevention and intervention strategies in a scenario-based curriculum that covers:
The many forms violence can take;

Techniques for intervening and preventing violence; and

Opportunities for skill-building and practice.
The standard curriculum is a two-day training, and it is very adaptable for other time frames. We are available to offer this training to agencies, organizations, schools, institutes, youth programs, and individuals. We're happy to talk with your organization or team about how to best deliver this training to you, and can offer in-person and virtual workshops.
If you'd like to request a training for your organization, or are interested in attending one of our community trainings, please fill out this form.
Testimonial: "I really feel more empowered to do something after attending this training. When I got home, I immediately talked to my wife and my daughter about the intervention techniques and possible situations that may arise at work, school and/or in public." 
–Previous Training Attendee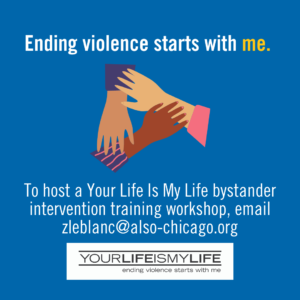 Public Awareness Campaign. YLML raises awareness about all forms of interpersonal violence and identifying opportunities to engage and intervene. Your Life is My Life has been the mantra of many community violence demonstrations across Chicago. We look forward to re-launching our public awareness campaign in the future. Stay tuned on our social media for updates.
Implementation Assistance. The YLML training team is available to provide ongoing support to agencies, organizations, schools, institutes, youth programs, and individuals who complete the training program.
For information about attending a YLML training, contact ALSO's Trainings and Engagement Manager at zleblanc@also-chicago.org or 773.232.1393