"Through a restorative justice philosophy, Restorative Justice Hubs create safe and healthy community spaces where disconnected and court-involved youth experience belonging, opportunity, and positive transformation" (Community

RJ

Hubs, 2016).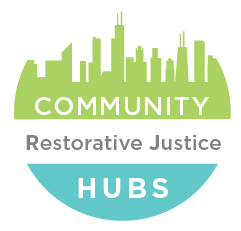 ALSO is a Restorative Justice Hub (

RJ

Hub) in Humboldt Park through Adler University-Institute of Public Safety and Social Justice. ALSO joins other local organizations, working with in-risk youth and their families, in applying community-led restorative justice approaches to reduce youth conflict and violence. ALSO's work within the

RJ 

Hubs will focus on violence prevention and conflict mediation with street-involved youth. Our dedication to raising awareness of the connection between 
community violence and intimate partner conflict
 is a unique perspective ALSO brings to the

RJ

Hubs team.

The activities of the

RJ

Hubs are grounded in the following five pillars, which are essential in reducing violence and supporting the healing and growth of young people:
A welcoming and hospital place

The accompaniment of youth in their journey

Relationship building with youth and families

Relentless engagement of organizations and resources for the youth and families 

Supporting collaboration and learning with other

RJ

Hubs