What are you going to do moving forward now that you hadn't envisioned before your participation in this program? To end violence with words.
ALSO's 10-10-10 youth employment program completed its first 10-week session of 2016. The program, which is funded by the Advocate Bethany Community Health Fund, has been out of session for a year due to the dynamics of the grant; grantees run the program for several years and take a year off. The program engages in-risk young men from Humboldt Park for 10 hours a week, for 10 weeks and pays them $10 an hour. While learning marketable sound industry skills, attendees of the program also engage in reflective conversations and activities that relate to violence in their communities and the role they can play in preventing violence in all of its forms. The community is sadly under-sourced and providing this opportunity to in-risk youth shows what can be gained when employment is available to those who need it.
Upon completion of the first 10-10- 10 program in 2 years, we asked some of the participants to respond to questions about the employment program and the impact it has had on their life. Below is a selection of their responses, which helps identify issues facing our community, showcases the raw truth of our youth participants and highlights the strengths of the 10-10- 10 Program.
What would you say were some of the goals of this 10-10- 10 group?
-          To keep thugs off the streets. Learning respect for others.
-          To give me a place to come and stay out of trouble
-          To keep people like us off the street
-          To help thugs learn about non-violence
ALSO recognizes that there are many perceptions of the word "thug". Oftentimes youth identify with this identity for different reasons which include a method of survival in their neighborhoods, societal perceptions of the term that are then imposed on youth and/or to be perceived as tough. *For more information on the subject please refer to the Further Readings section included below.
How has being in the 10-10- 10 program impacted your life on a daily basis?
- I chilled with people I don't chill with in the streets
- It helped me in my daily routine so I don't get in trouble as much
- I been in the crib more since I joined
- Maybe think twice
What new skills have you learned by being in this 10-10- 10 program?
- Learned how to set up equipment
- How to work a speaker system and to do party events
- How to work with DJ stuff and how to talk to others that I don't know
What are some important lessons you have learned by being in this program?
- Be careful on what you do there is always punishment
- Social skills and how to work well with others
- Stop being violent and be a role model
What are you going to do moving forward now, that you hadn't envisioned before participating in this program?
- Maybe not judge a book by its cover
- Getting more insight on how to manage my time and be less violent
- That it don't make you different because you live someplace else
- Stay inside because the streets ain't no game
- Try to end violence with words
Why did you decide to register for the 10-10- 10 program?
- Needed money. Wanted to get off streets
- To stop standing on the corner and actually do something
- Getting money and at the same time I stay off the streets
- At first to get paid, but later to want to stop violence
What do you want people to know about the 10-10- 10 program?
- It's a safe and friendly environment
- It helps develop character
- It's a good program and it keeps you off the streets and you meet new people
- They make a big difference stopping violence
Do you feel like you have more of a place in the world?
-Hell yea!
The spring 2016 10-10-10 youth also attended several events throughout the session that acted as supplements to their learning and training in the employment program. Among these events was a Healthy Masculinity Training on reconstructing what healthy masculinity means, an "On the Table 2016" event hosted by ALSO and Nuestra Senora and lastly a visit from the YMCA in Knoxville, Tennessee where the visitors asked our 10-10- 10 youth about their personal experiences in Chicago. Here are some of their responses to questions about those experiences.
How was the event(s) helpful?
- Learned a lot and what to make a difference.
- Help me learn solutions to problems
If you were able to contribute one more point to any of the events you attended, what would it be?
- We need to get people higher up to make a change.
- That we need to come together and make a change.
What do you plan on doing with the information you received?
- Stay safe and teach.
- Make a better community
10-10-10 is an invaluable resource for the youth here in Humboldt Park, Chicago. It provides the participants with an opportunity to have meaningful conversations about their experiences in a safe space. As you can see from the participants' responses, it is clear that having a place to go to express the frustration and love they feel towards their community is a part of the resolution to creating a safer one for their futures.
Congratulations to this year's participants. We look forward to hearing about how you will further impact your community towards violence prevention.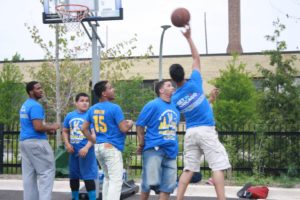 *Further Readings:
Dawn Marie Dow. "The Deadly Challenges of Raising African American Boys: Navigating the Controlling Image of the 'Thug.'"Gender & Society 30: 2 (April 2016): 161-188.
William Oliver. "'The Streets': An Alternative Black Male Socialization Institution." Journal of Black Studies, Vol. 36, No. 6 (Jul., 2006), pp. 918-937.