Violence and Trauma: It Affects Us All
The 21st International Summit on Violence, Abuse, & Trauma: Linking Research, Practice, Advocacy, and Policy hosted by the Institute on Violence, Abuse and Trauma (IVAT) was held August 28-31, 2016 in San Diego, CA. ALSO had the opportunity to sponsor the attendance of 21 STOP grant recipients from the following agencies through our LINK travel assistance program:  Alliance Against Domestic and Sexual Violence (American Samoa), Attorney General (American Samoa), Department of Human and Social Services (American Samoa), Catholic Charities - Alee Women's Shelter (Guam),  Office of the Attorney General (Commonwealth of the Northern Mariana Islands), House of Ruth (Maryland), Self Help Center (Wyoming), The Wellspring Alliance for Families (Louisiana), and YWCA (Delaware). I had the pleasure of meeting and learning more about each LINK participant, and their work, at a scheduled ALSO networking dinner on the first day of the summit.
This 4-day summit stressed the importance of viewing violence as a public health issue, promoting bystander intervention as a form of violence prevention, examining and understanding the intersectionality and historical contexts of violence and trauma within research, and the resiliency of victims and survivors to heal from abuse and trauma. Breakout sessions and workshops focused on a diverse set of issues including but not limited to, interpersonal violence, children exposed to violence, at-risk youth, criminal justice issues, sex trafficking, veterans and families, and elder abuse within various vulnerable communities. IVAT also actively encouraged participants to connect with one another to unify the domestic and sexual violence movements and work towards changing social norms that perpetuate violence.
The Adverse Childhood Experiences (ACEs) study, which discusses how positive and negative childhood experiences have a significant impact on future victimization and perpetration, was also a focal point and was referenced throughout sessions, workshops, and plenaries. Although the summit focused on the victimization of children and women, IVAT provided thoughtful dialogue around perpetrators of violence. Presenters explained how perpetrators are usually victims of violence without intervention and stressed the need for early intervention for trauma to help combat attachment, biological, mood regulation, and dissociation impairments.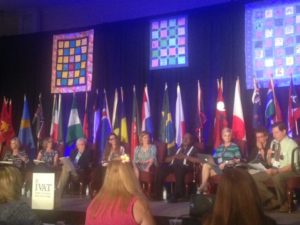 At ALSO, we strive to create an agency culture that values self-care to help mitigate much of the signs and symptoms associated with many of our professions and work that we do in support of survivors. Therefore, it is also important to us that our program participants feel supported. ALSO recognized that the information and topics shared at IVAT could be triggering and encouraged LINK participants to practice self-care when needed throughout the summit. We also provided LINK participants with self-care tips and resources before their attendance at IVAT. IVAT planners also paid close attention to the self-care of participants by ensuring all summit sessions and activities began and started on time, planning for longer breaks between sessions and for lunch, and intentionally encouraging participants to take care of themselves. An accessible wellness area was provided with a variety of services such as individual sessions with professional therapists, chair massages, mindfulness practice, and sound therapy. The wellness area also provided session activities including Zumba, improvisational comedy, yoga, self defense, and pet therapy. IVAT attendees also had a reserved quiet room made available to them throughout the entirety of the summit.
As a social worker at an anti-violence organization in Chicago, creating safe spaces where victims and survivors can heal and address trauma within a cultural lens is an extremely relevant takeaway that I can use in my work. IVAT left me with a lot to think about and what I could implement at ALSO for those experiencing violence. LINK participants who were sponsored to attend IVAT were asked by ALSO to develop action plans for their agency based on what they learned and what they would like to incorporate within their communities and jurisdictions. LINK participants will be presenting these action plans to ALSO in October. One LINK participant shared her interest in partnering with a faith-based leader in her community surrounding domestic violence issues after attending an IVAT session focusing on this topic. We are excited to hear LINK participant feedback and how they plan to incorporate this newfound knowledge in their work with victims and survivors.
Written by Stephanie Hausen, MSW
ALSO Program Coordinator
In partnership with the U.S. Department of Justice Office on Violence Against Women, ALSO's LINK Travel Assistance Program subsidizes STOP Formula Grant state and territory administrators and sub-grantees to attend national conferences and trainings where they gain knowledge and experience to share and implement in their local communities.