Survivors Come First at the Annual STOP Meeting

What is the STOP Meeting?
On March 28-29, ALSO hosted its 10th annual meeting for administrators of the STOP Formula grant. Administrators are the people in charge of distributing and overseeing STOP money in all 56 U.S. states and territories. ALSO plans and executes the meeting in partnership with the U.S. Department of Justice Office on Violence Against Women (OVW).
We'd like to tell you more about our role in the meeting and our relationship to the STOP grant and the people who administer it.  
STOP* funding comes from OVW. All 56 states and territories are eligible to receive funding to address gender-based violence. STOP focuses on the crimes of domestic violence, sexual assault, stalking, and dating violence.

Based on the statistics of domestic and sexual violence, if you're reading this and you live in a U.S. state or territory, support for STOP is relevant to you or someone you know. Check out what's happening with STOP where you are.
ALSO's role
Every year, the STOP Meeting is one of ALSO's biggest events. Planning for this year's March meeting began in September 2016 and involved 113 planners, speakers, and participants. In alternating years, the meeting expands to include leaders from the sexual assault, dual, and domestic violence coalitions in each state and territory and attendance numbers double.
It's also one of our most significant responsibilities as the comprehensive technical assistance provider for the STOP Administrators. As their technical assistance provider, we provide training and one-on-one support in managing STOP grants.

Roles of STOP Administrators
Just some of the job tasks of administrators are:
identifying the needs of survivors in their states and territories

creating a plan for how STOP money will be distributed that will meet the needs of survivors

consulting multiple

partners to identify needs and create the plan

finding organizations and projects to fund that address the needs of survivors

making sure the entities that receive the money follow through

helping those entities succeed

reporting on how the money is used

being leaders on violence against women issues and needs in their communities
Intersectionality at the STOP Meeting
This year's meeting, STOP at the Intersections: Meeting Survivors Where They Are, focused on applying the concept of intersectionality to STOP work. Last year's meeting introduced the concept and this year, we emphasized application.
ALSO bases its understanding of intersectionality on the work of Kimberlé Crenshaw who coined the term. She defined intersectionality by discussing how race and gender intersect in the experiences of Black women in America. Crenshaw has since expanded her exploration of intersectionality to include "the intersections of racism, sexism, class oppression, transphobia, able-ism and more."
In STOP work, intersectionality means that services and support for survivors of violence must factor in the many identities that survivors carry with them and how those identities might result in discrimination.    
Want to keep thinking about intersectionality? Beginners, listen to these

young people

. Ready for more? Watch Kimberlé Crenshaw's

TED talk

.
Falilah Bilal served as the keynote speaker for this year's STOP meeting. Ms. Bilal is a consultant for the National Black Women's Justice Institute and a drama therapist. Bilal, along with speakers from OVW and expert organizations, helped administrators explore how they can apply intersectionality in their work to identify and meet the dynamic needs of survivors.
Bilal told us "if you're not inclusive, you're exclusive," and we heard her.
See meeting photos on Flickr!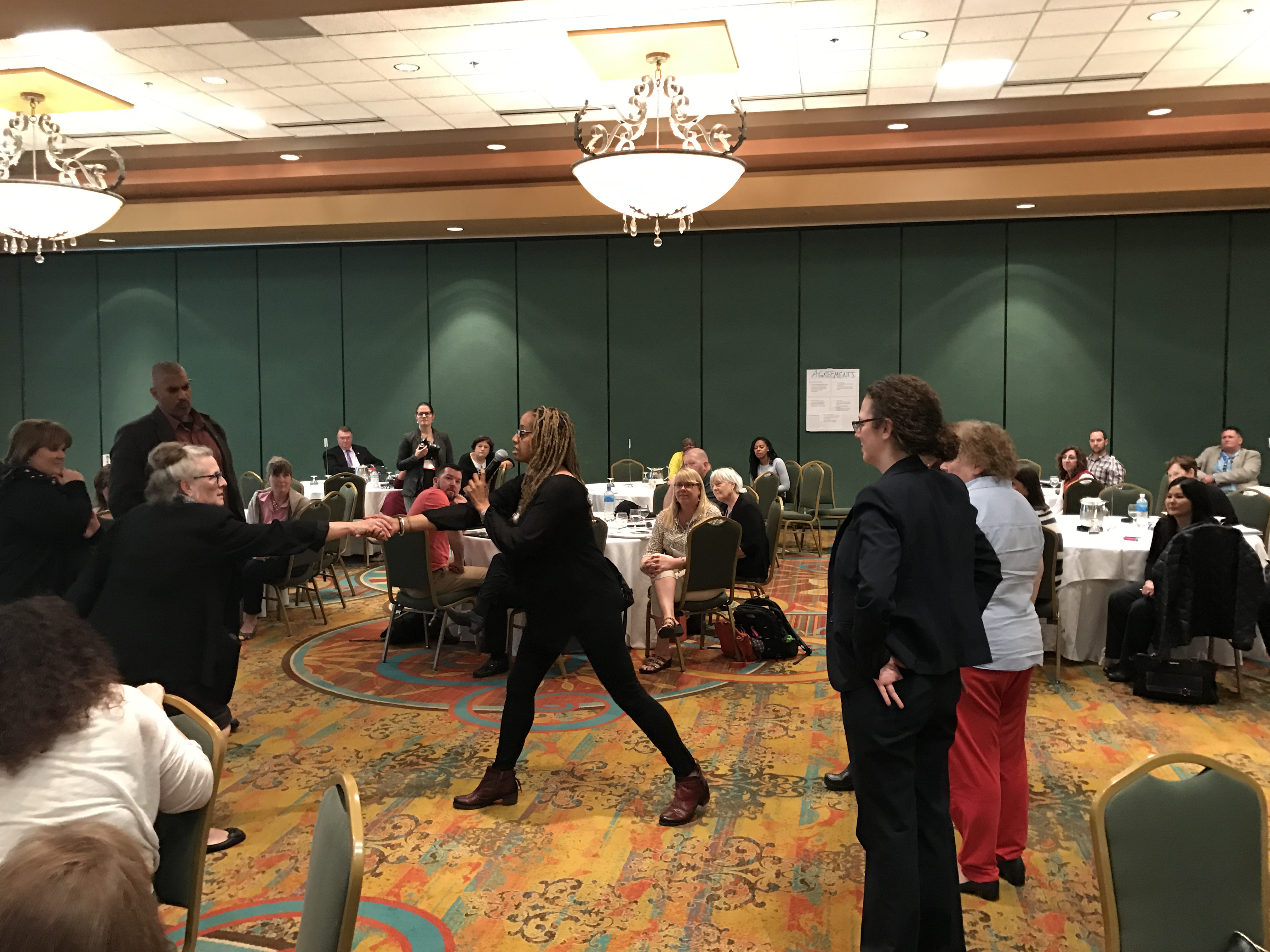 Onward and Upward
This year's meeting concluded by asking administrators to identify next steps for infusing intersectional thinking into their work by:
reaching out to Tribes and other underserved populations in their states and territories,

asking expert organizations like ALSO for help, and

taking it one step at a time.
At ALSO, we learned a lot about working intersectionally during the planning of this meeting. We look forward to continuing to support STOP Administrators and the goals of the STOP grant program.
Contact ALSO today to learn more about our work on intersectionality and gender-based violence.
*STOP stands for Services Training Officer Prosecutors