STOP in Action Booklet (PDF)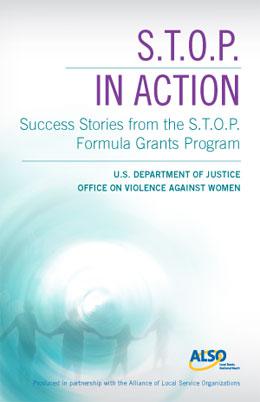 S.T.O.P. in Action contains stories collected from all U.S. States and Territories on successful outcomes in the implementation of the U.S. Department of Justice Office on Violence Against Women S.T.O.P. (Services. Training. Officers. Prosecutors.) Violence Against Women Formula Grant Program (S.T.O.P. Program). The S.T.O.P. Program was created by the Violence Against Women Act (VAWA) of 1994 to assist "States, State and local courts (including juvenile courts), Indian tribal governments, tribal courts, and units of local government to develop and strengthen effective law enforcement and prosecution strategies to combat violent crimes against women, and to develop and strengthen victim services in cases involving violent crimes against women."1 As a result of this grant program, victims of sexual assault, domestic violence, dating violence and stalking from communities across the country have been made safer and offender accountability increased. This booklet tells victims' stories, and the stories of the front-line workers and administrators from courts, victim advocacy organizations, prosecution, police, and other key agencies who assist victims in achieving and maintaining safety.
Download the S.T.O.P. in Action PDF booklet.