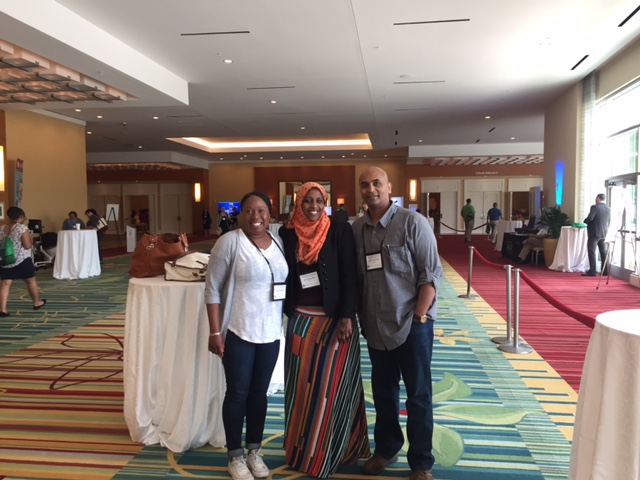 Photo description: ALSO consultant and subgrantees at LINK conference; standing in front of a high round table with a white table cloth on it.
Pictured( from left to right): Quenette Walton (ALSO consultant), Suad Mohamed (Ethiopian Tewahedo Social Services), and Beniam Cherinet (Ethiopian Tewahedo Social Services)
At ALSO, LINK (Locally Implementing National Knowledge) is a travel assistance program, in partnership with the Office on Violence Against Women, that connects STOP Formula Grant state and territory administrators and sub-grantees to national knowledge from their field in order to share and implement it locally. The LINK Program helps to eliminate cost barriers associated with attending national conferences by covering costs. In 2017, ALSO supported a LINK participant group to attend the End Violence Against Women International Conference (EVAWI) in Orlando, Florida. After their participation in the conference, we asked participants to share why they work in this field and why they wanted to participate in LINK.
Participants expressed that they work as service providers because of a commitment "to seeing a victim regain happiness and start a new life…" (Beniam and Suad from Ethiopian Tewahedo Social Services in Ohio, 2017). Another participant shared that her interest in the work stems from her mother:
What initially made me interested in working with survivors of DV [domestic violence] and SA [sexual assault] was my mother. As far back as I can remember my mother has been involved in DV/SA field. As I grew older, I not only saw the impact she has created and continues to create, but that I also came to see that I too can and want to make a difference in the lives of survivors. (Arianna, Voces Unidas for Justice in Colorado, 2017)
Participants also shared why they wanted to attend the EVAWI conference with LINK. Two participants expressed interest in increasing their knowledge and professional development through the financial support of LINK.  They said:
As advocates, it was very important to attend EVAWI to get more knowledge and diverse experiences which help us provide better services to victims. Our program don't have enough funding for trainings and conferences and therefore, we appreciate the LINK Program for making it possible. (Beniam and Suad from ETHIOTSS, 2017).  
Another participant identified increasing their network of peers as an additional incentive of LINK:
What interested me in attending the EVAWI conference through LINK was the opportunity to learn from an array of experts concerning options of justice, avenues for healing and advocating for survivors of sexual assault, along with being able to attend a conference that was sponsored by EVAWI, which is a well-known and respected organization. Also, I accepted the invitation because I knew it would be a great experience. I was also eager to meet other scholarship recipients (i.e., LINK Program attendees through ALSO) to continue building a strong network of peers, and to learn as much as I can for application to my work with the people in the community. (Arianna, Voces Unidas for Justice, 2017)
What these participants highlight are the core principles of the LINK Program—connecting people with peers and learning best practices to improve the work they do with and on behalf of survivors. ALSO supports the passion of non-profit organizations through LINK so organizations can continue to provide the best services possible to survivors. Because when we provide opportunities for learning and growth, non-profit organizations are able to effectively respond to issues of domestic and sexual violence more broadly.

To learn more about ALSO's programming, contact ALSO today!
Written by Dr. Quenette Walton
ALSO consultant
In partnership with the U.S. Department of Justice Office on Violence Against Women, ALSO's LINK Travel Assistance Program subsidizes STOP Formula Grant state and territory administrators and sub-grantees to attend national conferences and trainings where they gain knowledge and experience to share and implement in their local communities.