LINK Participants at Healthy Masculinity Training Institute
Wednesday, May 18th – Friday, May 20th, ALSO partnered with Men Can Stop Rape to host the 2016 Healthy Masculinity Training Institute (HMTI) in Chicago, IL, which took place at the University of Illinois at Chicago. MCSR is the leading technical assistance provider for the Engaging Men and Boys grant. Through three days of discussions about theory, interactive group exercises, role-playing, and multi-media presentations, the training institute presented participants with a framework to positively construct masculinity and to motivate men's engagement in challenging the attitudes and behaviors that support violence against girls and women. 
In partnership with the Office on Violence Against Women, ALSO sponsored 11 STOP Formula grantees and sub grantees (5 prevention specialists, 4 sexual assault advocates, 1 law enforcement liaison, and 1 sexual assault therapist) from Wisconsin and Indiana to attend the training through ALSO's Locally Implementing National Knowledge (LINK) program.  LINK is a travel assistance program that eliminates cost barriers associated with attending national conferences by covering participants' registration, hotel, transportation, and providing them with a meal per diem. The 11 applicants joined together for the 3-day conference to capitalize on how to engage men in healthy masculinity discussions and plan to share what they learned from the training with their respective organizations.
The HMTI "Train the Trainer" conference is offered nation-wide to Technical Assistance providers, college students, business professionals, teachers, advocates, middle schoolers, incarcerated individuals and many others to learn about the damaging effect of dominant stories of masculinity in our society several times throughout the year. For the conference here in Chicago, this particular group included sexual assault advocates, prevention specialists, law enforcement liaisons, fraternity members, college student advocates and teachers to name a few.  By reflecting on personal stories and experiences involving masculinity, participants found real-life examples that challenged societal norms while the interactive aspect of the conference encouraged more collaboration amongst participants who held different points of view.  
Topics included in the training consisted of defining healthy masculinity, violence prevention, gender equity, dominant stories and counter stories, visible allies, linking oppressions with unhealthy masculinity, bystander intervention and adult learning theory. Using the knowledge obtained from the topics listed above, participants then sampled various activities to further ground the topics within the group discussions. Activities mostly included characterizations of healthy and unhealthy masculinity that were defined as a group, by the group, as well as being modifiable for different populations (various age-groups, mixed gendered groups, fraternities etc.).
One of the exercises used for the training was "Real Man and Unhealthy Masculinity" where participants were shown 2 male celebrities and asked who was the real man? between the two. Many of the words used to describe these real men were:
athletic
tough, star
trophy wife
assertive
Outdoorsy
not gay
[has] street cred
controversial
Later on in the training, the group did another exercise answering the question who was the strongest man they knew and why? First, many of the participants identified, their father or a father figure whether they were a grandparent of a teacher as the strongest man they knew and the reasons why included:
[he] took care of us
shared emotions
committed to the family
was loving and affectionate
showed care
supported what was best for the children
At the end of this exercise, the list of "real man" qualities and "strongest man" qualities were displayed side by side and participants had an opportunity to see the vast differences between societal expectations of a real man as opposed to people's personal expectations of what a real man is. It proved to be a very powerful exercise. As a final activity, participants were encouraged to begin thinking about next steps and how they would start implementing the training in their organizations and/or personal lives. Making this activity a vital part of the training process was essential in ensuring participants walked away processing the information and creating tangible plans for future training opportunities.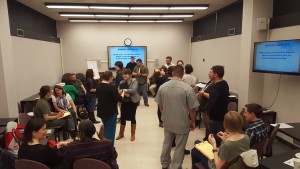 Many of the LINK applicants during and after the training expressed their gratitude at being able to attend and thrilled at the opportunity of starting a plan using the information provided at this event. Personally, the HMTI cemented in my mind why healthy masculinity, although often overlooked, is an important part of violence prevention that needs further action and exploration. Involving this conversation in violence prevention early on will help men and women across the disciplines absorb what healthy masculinity means, know and identify what unhealthy masculinity looks like and integrate it into violence prevention conversations. The Healthy Masculinity Training Institute offered by Men Can Stop Rape is invaluable to the continued work prevention specialists, law enforcement, college students, advocates, family members, intimate partners and others are doing to engage young men and boys and educate those within and without violence prevention on the "real" definition of healthy masculinity.
Written by Zarena Leblanc
ALSO Program Assistant
In partnership with the U.S. Department of Justice Office on Violence Against Women, ALSO's LINK Travel Assistance Program subsidizes STOP Formula Grant state and territory administrators and sub-grantees to attend national conferences and trainings where they gain knowledge and experience to share and implement in their local communities.