ALSO's work across national and local platforms is grounded in our belief that oppression is the foundation that supports violence.
In March 2016, ALSO co-coordinated a national joint meeting for STOP Grant Administrators and Coalition Directors hosted by the U.S. Department of Justice Office on Violence Against Women. The joint meeting featured a plenary on intersectionality delivered by Dr. Monique Morris from The National Black Women's Justice Institute.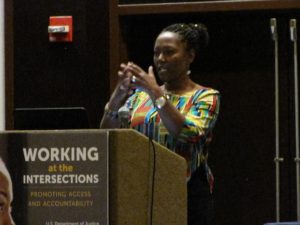 On April 7, 2016, ALSO began our spring session of the 10-10-10 Program, which employs disconnected, in-risk youth and teaches them job skills.
On April 12, 2016, ALSO co-presented a forum on transforming justice for incarcerated mothers and young women. The forum explored the need for restorative justice practices in schools and the justice system, the sexual abuse to prison pipeline, and transitions from prison back to community.
Our work resonates with the stories shared and critiques delivered in Pushout: The Criminalization of Black Girls in Schools (2016), by Dr. Monique Morris. In Pushout, Morris dissects the criminalization of black girls enabled by the use of exclusionary discipline in educational settings and the prevailing negative stereotypes that dictate black girls' experiences. Schools that privilege exclusionary discipline rely heavily on a system of suspensions and expulsions. Black girls are more likely to be suspended or expelled than their white peers, in large part because of culturally embedded perceptions of their misbehavior. Several youth interviewed by Morris shared that they'd been kicked out of classrooms for asking questions. Morris noted cases of suspension and expulsion across the country for six-year-old girls. According to Morris, school should be a protective measure for youth, but when overdisciplined in and pushed out of educational institutions, black girls experience higher rates of abuse and trauma, including rape and sex trafficking (Chapter 3, "Jezebel in the Classroom"), as well as justice-involvement for non-violent crimes. Current system approaches to black girls are motivated by and uphold what Morris identifies as "permission to fail" (50). This permission, along with an emphasis on criminalization, allows black girls' suffering to go unnoticed and unsupported.
Morris provides historical context for the criminalization of black girls both over time and in our current moment. For example, she links racial disparities in today's juvenile justice system to the initial barring of black youth from nineteenth-century juvenile reformatories. The reformatories offered "'food, shelter and education to the homeless and destitute youth and to remove juvenile offenders from the prison company of adult convicts'" (140).  Morris writes "Black children, including Black girls, were not deemed suitable for such facilities" (141). When reformatories eventually admitted black girls, programming emphasized making them better domestic servants rather than deepening their education. In addition, Morris uses the concept of intersectionality to foreground the black girl experience in our country's history of enslavement and discrimination, offering useful context for the more theoretical conceits of her book. When calling for race-conscious gender analysis, Morris discusses the slave experience for black men and black women. Black women were subject to the same "oppressive and dehumanizing conditions" as men, but the "gendered way in which racism has played out in their lives also meant that they were routinely raped and forced to serve as wet nurses" to slave owners' babies (180). Despite the intersection of their racial and gender identities, black women are continually pressured to "pick an allegiance," valuing either race over gender or vice versa (23). Morris supports her theoretical and historical insights with up-to-date statistical data and most powerfully, with the words of girls who've lived through what those statistics document. Morris interviewed black girls across the country, including Chicago, and their contributions occupy important space in the book.  
Though the situation for black girls is critical, Morris offers guidance for forward action. She shares six areas for improving educational settings for black girls:
the protection of girls from violence and victimization in school
proactive discussions in schools about healthy intimate relationships
strong student-teacher relationships
school-based wraparound services
an increased focus on student learning coupled with a reduced emphasis on discipline and surveillance
consistent school credit recovery processes between alternative schools and traditional district or community schools (176)
The book concludes with an appendix of resources complete with questions and answers to share with girls, parents, community members, and educators as well as further discussion of alternatives to punishment.
Pushout presents a comprehensive analysis of the problem of the criminalization of black girls and suggests inroads for intervention and advocacy.  For ALSO, Dr. Morris's book allows us to reflect on the work we've already done at the intersections of violence against women, race, and community violence as well as strategize future action. Pushout is available through the Chicago Public Library. To learn more about Dr. Morris and her book, please visit: http://www.moniquewmorris.me/.
Written by Deirdre O'Rourke
ALSO Program Coordinator