From Required to Inspired: Unlocking Your Leadership Potential through Grant Administration
From Required to Inspired: Unlocking Your Leadership Potential through Grant Administration
ALSO STAAR Project Meeting for STOP Grant Administrators
Chicago, Illinois, September 25-26, 2018
State and U.S. Territory grant administrators of the federal Violence Against Women Act's STOP Formula Grants Program from around the country came together for a two-day workshop in downtown Chicago on September 25th and 26th.
"From Required to Inspired: Unlocking Your Leadership Potential Through Grant Administration" explored ways participants could use STOP Grant administration processes and tools to support survivors of domestic violence, dating violence, sexual assault, and stalking, and to hold offenders accountable through criminal justice and civil legal processes. The workshop was held by ALSO's STAAR Project, which, as the OVW comprehensive technical assistance provider for the STOP Program, offers guidance to all 56 state and U.S. territory governmental agencies that receive STOP VAWA funds. Each of the 56 agencies is responsible for establishing a statewide plan for the STOP Program, and for making subawards for the purpose of strengthening law enforcement, prosecution, courts, and victim service responses.
Seventeen STOP administrators from 14 jurisdictions attended the workshop.
"This workshop was a chance to focus on how STOP Administrators can work within their role at state agencies to create opportunities for systems and response changes. STOP Administrators have quite a few grant administration tools at their disposal that can help statewide and local agencies and collaborations adapt, adopt, and incorporate best practices and promising approaches," said Mary Malefyt Seighman, ALSO's Director of Policy and Justice Initiatives, who manages the STAAR Project.
Participants and presenters shared ways that STOP Administrators and subrecipient organizations and agencies (i.e., courts, law enforcement, prosecutors, and victim services) can learn from the experiences of other states and territories.
Soon after the workshop began, participants shared accomplishments, from the development of a grant management system in New Mexico and Arkansas, to a hotline for victims of domestic violence in Maine, and a Louisiana policy change resulting in divestiture of firearms from domestic violence offenders.  
A session on "STOP Purpose, Progress, and Opportunities" brought together panelists to reflect on the history of VAWA, and how STOP has been implemented in their state/territory. The workshop emphasized themes that would be repeated throughout the two-day event - including the importance of collaboration, current challenges, and opportunities for future work. Vickie Smith, Executive Director of the Illinois Coalition Against Domestic Violence said that progress on these issues "always comes through collaboration."
Later, a workshop on STOP implementation opportunities jump-started STOP administrator peer-to-peer networking on funding strategies, collaboration, and related issues.
Later on day one, participants engaged in a session on collaboration within STOP.  Numerous grantees said they wanted more information about how other grantees reach underserved groups, including tribal populations. Others related challenges that some subgrantees have in completing applications as effectively as larger organizations that have more capacity.
Other possible strategies discussed included adding economic security services for victims and focusing on the impact of witness tampering.
Trauma and Violence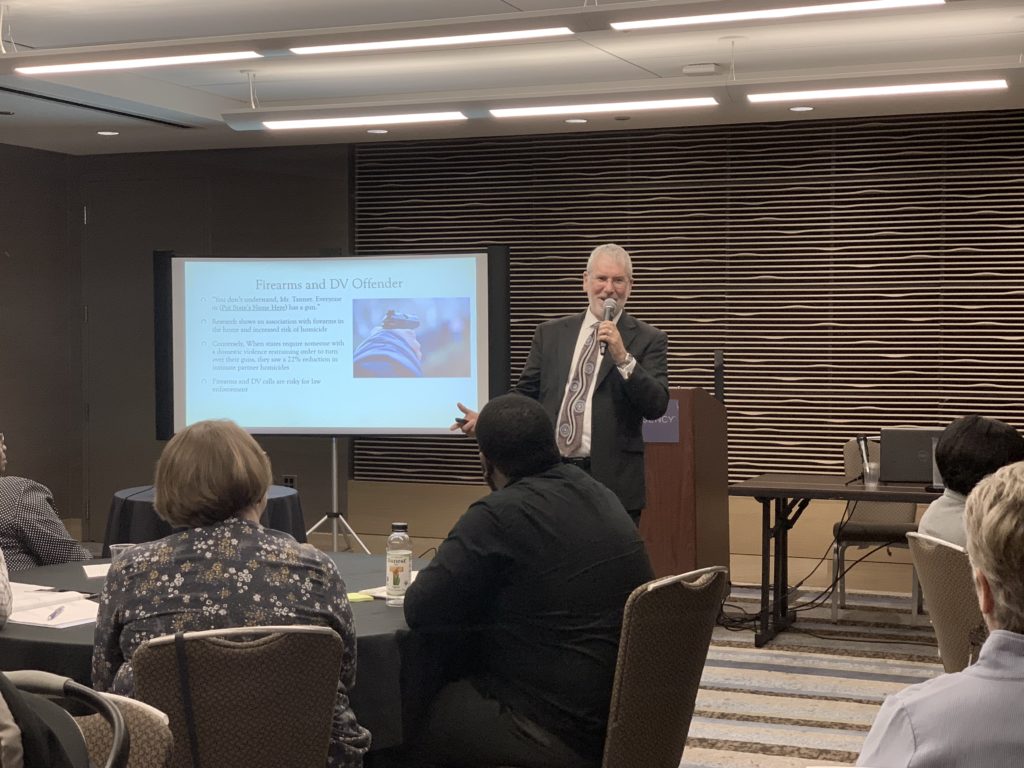 On September 25, Herb Tanner, an ALSO consultant and former prosecutor, spoke about challenges related to the serious impact of trauma experienced by victims of sexual assault (Tanner is a former director of the Violence Against Women Project  of the Prosecuting Attorneys Association of Michigan). "Trauma affects how memories are retrieved," he said. "It can rewire our brains." Participants discussed possible ways to incorporate trauma-informed practices include supporting training for law enforcement and prosecution, and STOP planning and program development that emphasizes trauma-informed practices.
Sexual Assault Coalitions as Pass-Through and Monitor
On September 26, Carrie Ward, Grants Director at the Illinois Coalition Against Sexual Assault (ICASA), spoke about opportunities for states and territories to address the needs of sexual assault survivors and fund systems change initiatives. She discussed emerging issues including language barriers, undocumented status, child care, and legal services.
Using Data for Continuous Improvement
On day two, ALSO Executive Director Lori Crowder, and Program Manager Antonella Santostefano facilitated a session on using data and outputs to inform STOP planning and implementation. For many grantees, the challenge is not just in how to deliver services - but how to track program outcomes so they can continuously improve. "Data," said Dr. Crowder, "is something we need to use to tell our story and evaluate our programs." STOP Administrators were referred to crimesolutions.gov for relevant data on existing program models. Participants were encouraged to look for data that is already available to them in sources including qualitative and quantitative data found in subgrantee progress reports, and which is learned during regular subgrantee check-ins and site visits. Another option includes partnering with local universities that can provide objective analyses. Data gathered can be used to inform work throughout the STOP Grant cycle including planning, RFP development, and grant monitoring.
STAAR Project Tools and Resources
The STAAR Project, which provides tools and resources to STOP Administrators and subgrantees, presented a roadmap to the guidance that it offers. Key tools and resources include the Handbook for STOP Administrators, an Implementation Plan Template, a Monthly At-a-Glance tool, e-newsletters, and the STAAR Project website. Over the next several months, ALSO plans to offer a series of webinars for STOP administrators on topics that incorporate both substantive and grant administration information.
Future Opportunities for STOP Administrators
The workshop provided opportunities throughout for participants to share how they and partnering organizations and subgrantees implement the STOP Formula Grants Program within their state or territory. Several highlighted the value of publicizing accomplishments. Attendees also reflected on their challenges, successes, and what they learned at the two-day event.
Destinie Hart, Grants/Contracts Analyst with the Idaho State Police reflected, "at the conference, we talked about ways to keep our STOP Implementation Planning Committee members engaged in the process so that we are continually learning from each other and remaining connected through the state. I plan to begin having quarterly meetings with the committee in order to keep dialog open."
Giangola said that the STOP workshop - and future workshops - can play a role in addressing "the thing we all want to know - best practices that are going to make our jobs as administrators more effective."
Meanwhile, Evonnie Hocog, Program Coordinator for the Office of the Governor of Guam, Federal Programs Office, said that she "loved how administrators are able to come together to discuss challenges and success." She also suggested adding a financial segment to a future workshop. "Grantees could share how each jurisdiction handles reallocations, subaward computations and more," she added.
"The fact that it was a small enough group and we had a chance to network and connect on a personal level, that was helpful to me," said Troy Giangola, Grants Program Specialist with the New Mexico Crime Victims Reparation Commission in Albuquerque, New Mexico. "It's good to hear about what other states are doing and how the administration of the grant is different from state to state."
To view materials from this meeting, click here, and to view the tools and resources mentioned in this article, click here.
--Dan Baron, ALSO Communications Coordinator