2018 Benefit for Peace Gala
ALSO Benefit for Peace
October 27, 2018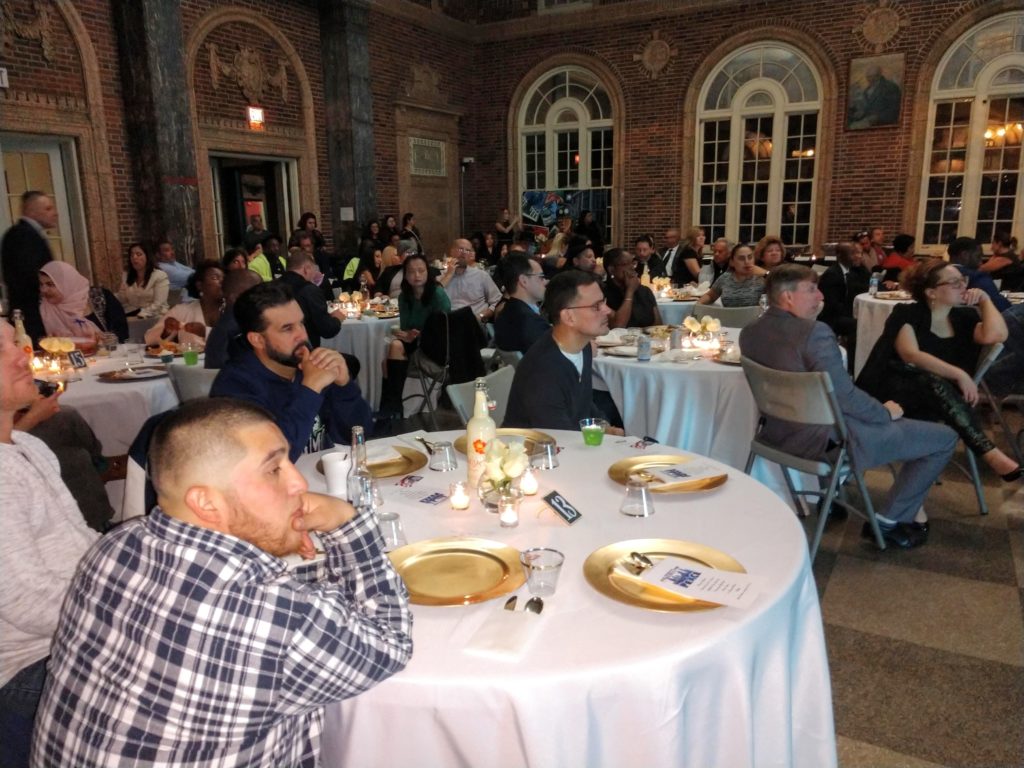 Twenty years of ALSO. A chance to celebrate the past, look to the future and acknowledge the continuing importance of "Safe Homes, Safe Streets" - and all of our violence prevention work in local communities and across the nation.
 More than 100 friends of ALSO attended the Benefit for Peace Gala on Saturday night, October 27 at the Humboldt Park Field House in Chicago.
Lori Crowder, Executive Director of ALSO, reflected on the larger context of violence that is affecting the country. "We saw what happened today in Pittsburgh," she said, referring to the killing of 11 people at a synagogue on the morning of October 27. "We have to keep moving forward and envision a day when violence will end."
ALSO has long been working to end violence in communities - and across the nation. Bruce Ray, Secretary of ALSO's Board of Directors and longtime pastor of the Kimball  Avenue United Church of Christ, related how the roots of ALSO actually date further back than 20 years, when the Chicago Community Trust funded community-based efforts in Logan Square in 1993 to create a comprehensive plan for children, youth and families.
Soon after that, he added, those who were involved with ALSO realized that, more and more, "violence was a barrier in our communities." It has been the focus on ALSO's work every since.
Now, ALSO reaches multiple communities in Chicago and every state and territory in the U.S.
Sandi Byrd, Vice President of ALSO's board, praised the organization's work and pointed to a future that has been shaped by a strategic plan. The plan, which was completed last year, focuses on youth engagement, gun violence reduction, gender-based violence and policy.
That work is rooted in programs that connects people and communities. Tara Campbell, Program Coordinator at ALSO, shared how the organization is rebuilding trust and reaching out to youth, working with people who want to have their records expunged or sealed so they can move ahead with their lives, and serving grantees that are trying to improve the quality of services that address domestic violence and sexual assault.  
Jorge Matos, Associate Director of Violence Prevention Programs, told the crowd that he started at ALSO in 2006. More than a decade later, he said, the group's focus is still on "sharing, teamwork and impacting people's lives."
The night also provided an opportunity to celebrate ALSO's connection to the community and others working to prevent violence. "This night," said Crowder, "is about being together with people who care about the same things we care about."  She added that one major reason why ALSO is strong is because of its partners. This year's Community Ally Award was given to a partner - Vanessa DeReef of the Metropolitan Peace Academy, which provides training for outreach workers. Dereef - who was described by Matos as a "bulldozer of love" - said outreach workers "are the boots on the ground, and they need to be lifted."
The night was also about looking to the future. Crowder said that in the coming months and years, ALSO will work to further integrate its programs, move ahead with its policy advocacy work and seek to open a sports academy for youth in the Humboldt Park area.